Photo: Hans Hauge - Visit Innlandet
Highly recommended - book today!
Lush landscapes and Norwegian countryside
Departure date: 10 July 2023
PRICE: NOK 15950
Join us for a journey in lush landscapes, with green meadows and abundant gardens where you experience tasty and delicious Norwegian ingredients. This journey showing Norwegian farms, Norwegian traditions, history, local producers and charming hotels gives a valuable break in a busy everyday life.
Get to know Norwegian traditions and Norwegian history.
We will visit museums and homes of famous artists. A journey through history and traditions combined with fantastic landscapes, nature experiences and local tastes from the various regions, gives lasting memories and a wish to experiences more of these hidden gems.
Highlights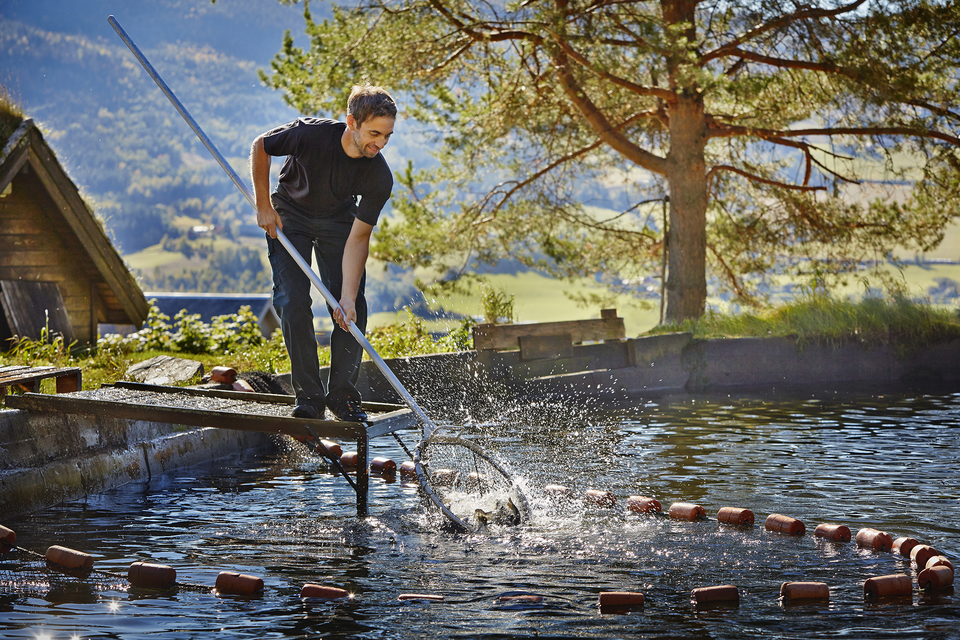 Experience Norwegian traditions. We will visit the Noraker farm, specialized in producing the Norwegian dish rakfisk (fermented fish).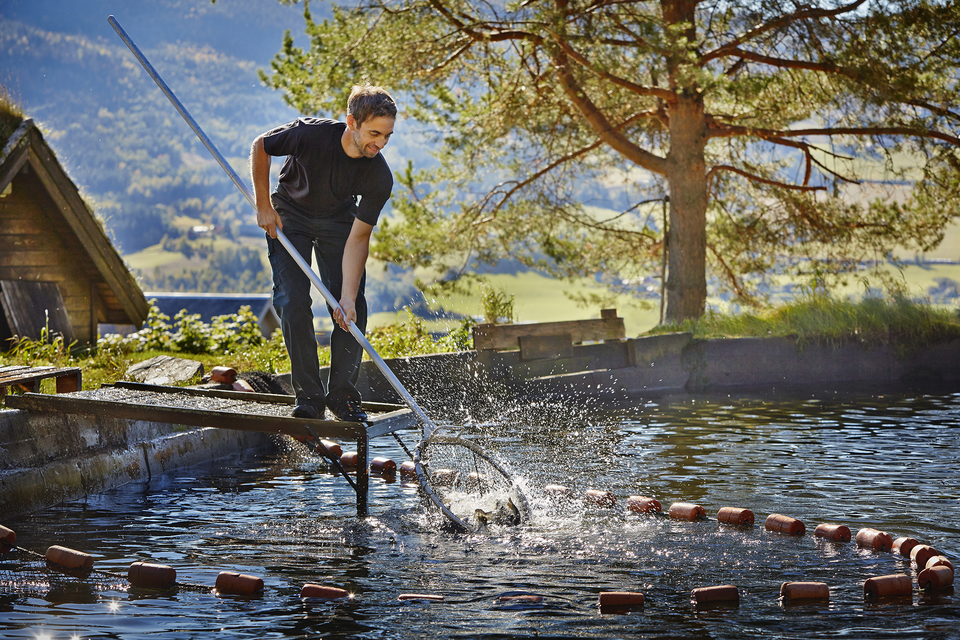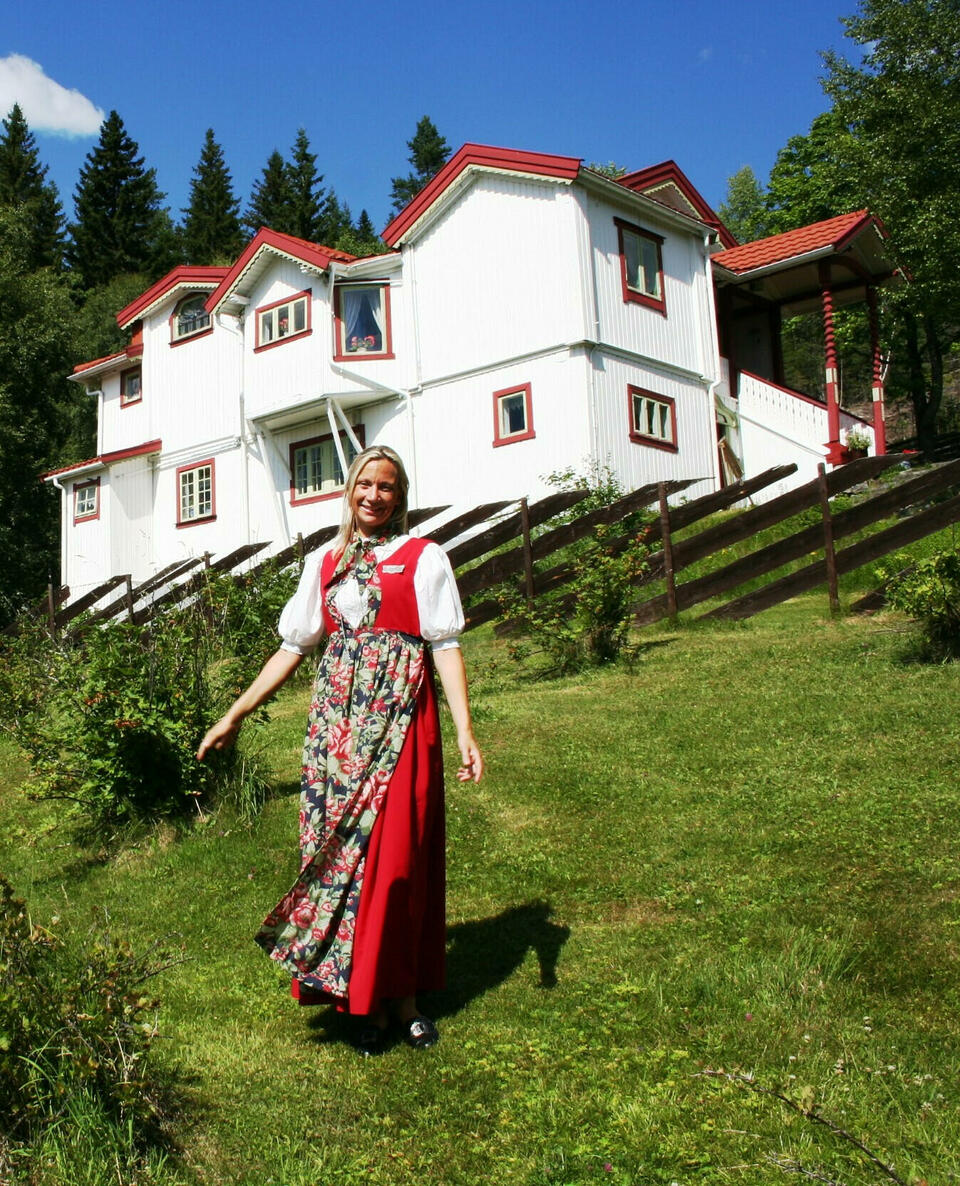 From Christian Skredsvig's home "Hagan", one of the country's best-preserved artists' homes from the golden age of Norwegian painting. The painter Christian Skredsvig (1854–1924) lived here for 30 years. Skredsvig was a famous painter and perhaps the most famous of the Norwegian artists in Paris at that time.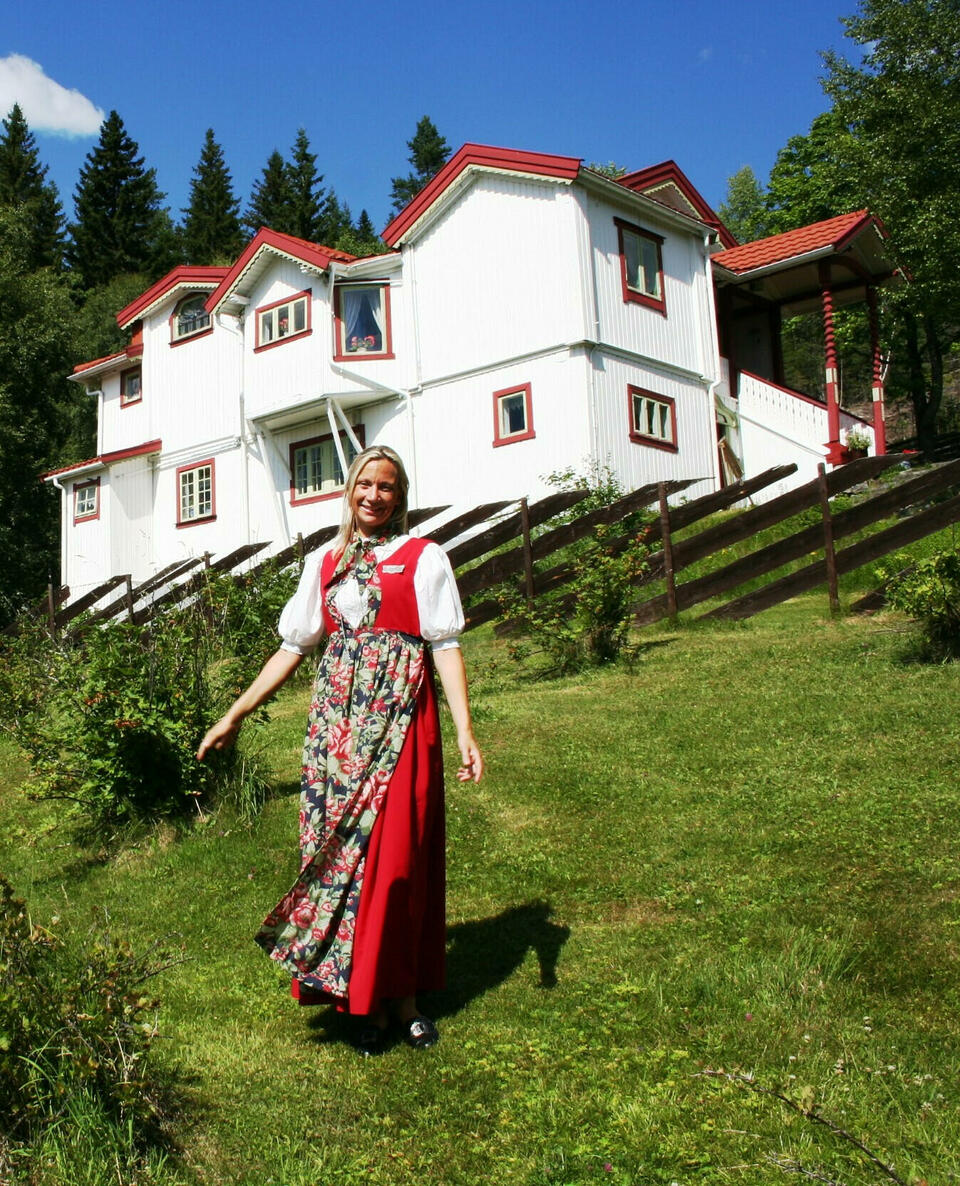 Photo: Christian Skredsvig's home "Hagan"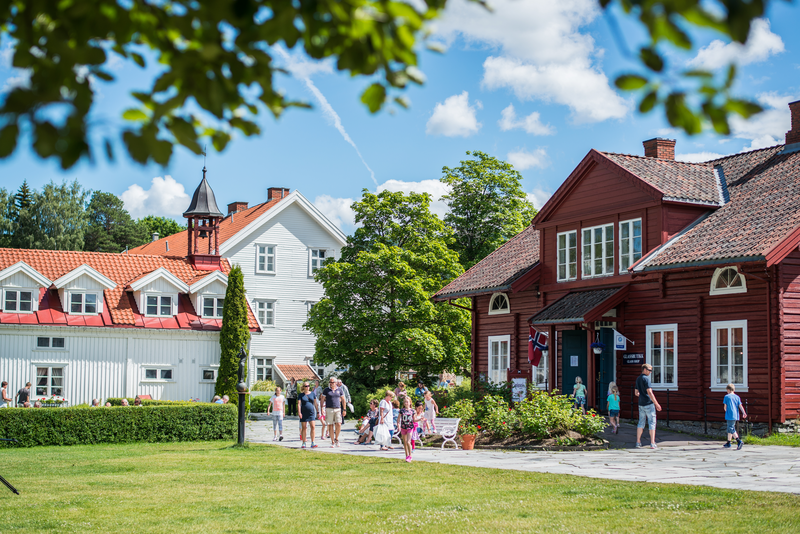 Visit Hadeland Glassverk getting an insight to the glasswork industry. You can even try glassblowing getting your own piece of art.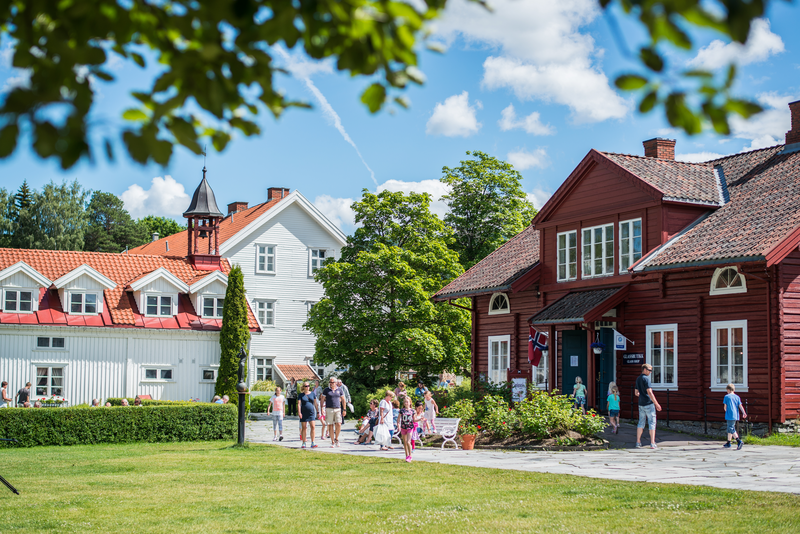 Hadeland Glassverk. Photo: Visit Norway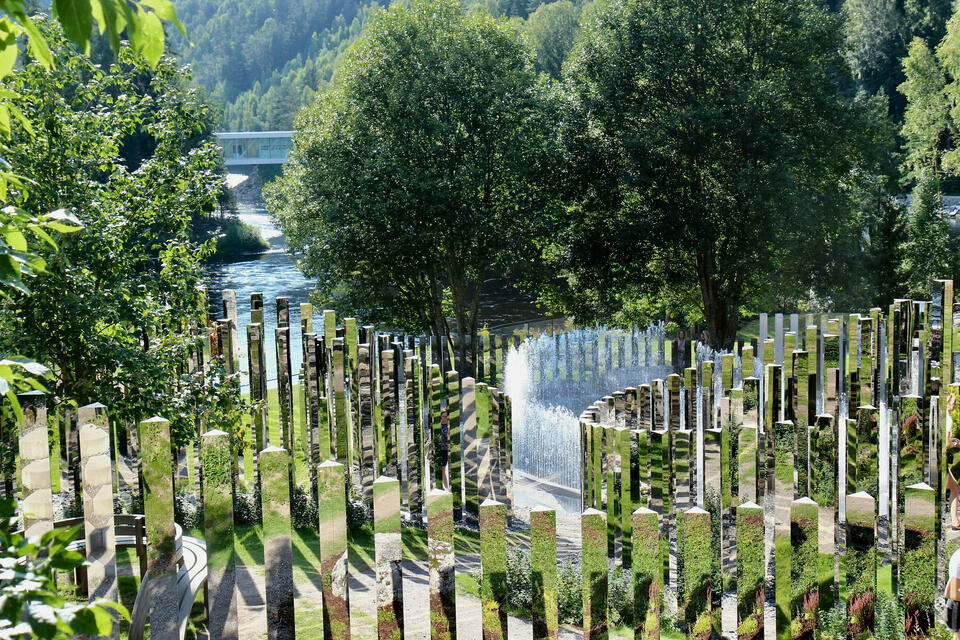 A joyful day visiting the scenic Kistefos Sculpture Park that has an impressive collection of works by internationally renowned contemporary artists.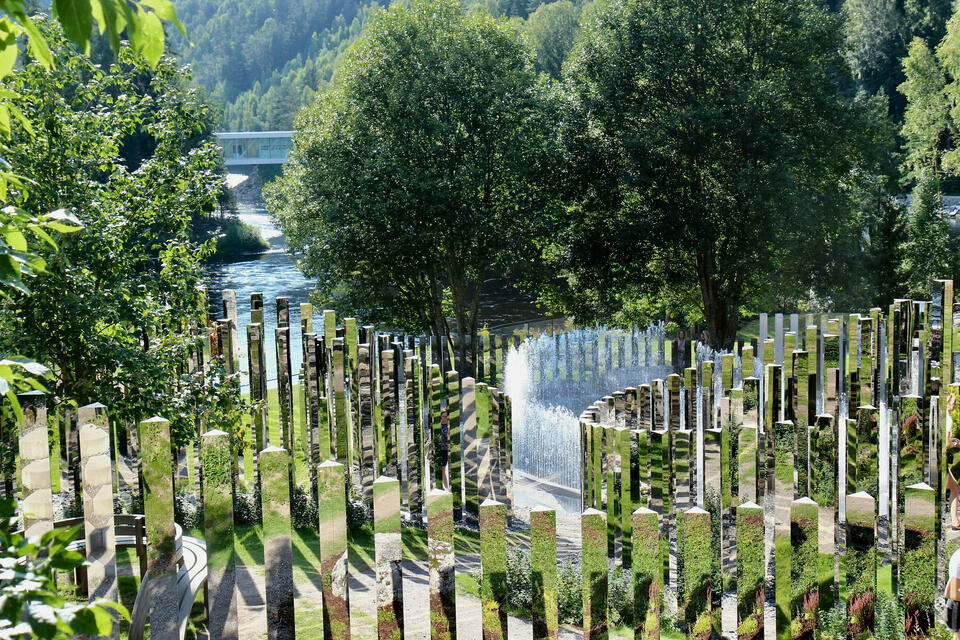 Photo by Arvid Høidahl on Unsplash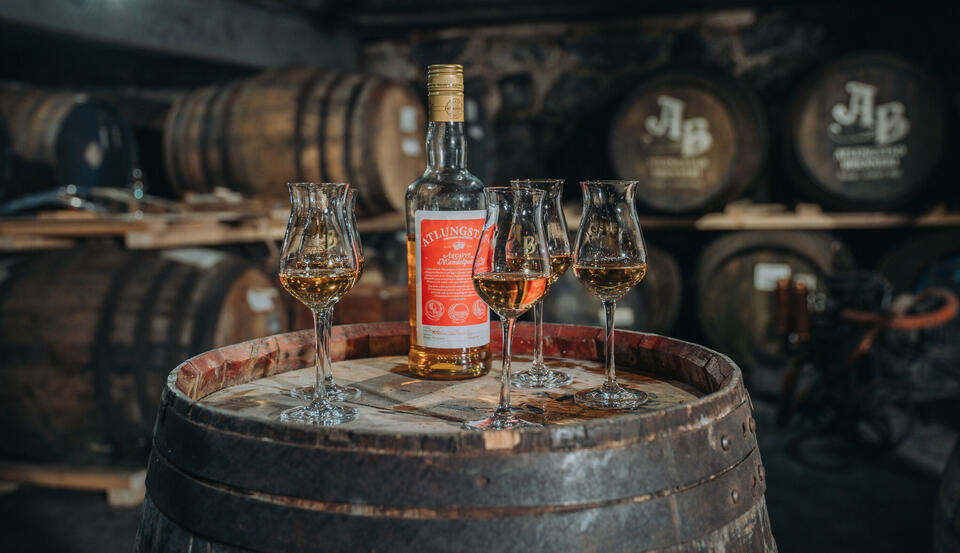 Get to know the Norwegian traditional liquor aquavit and Atlungstad distillery's 150 year old history.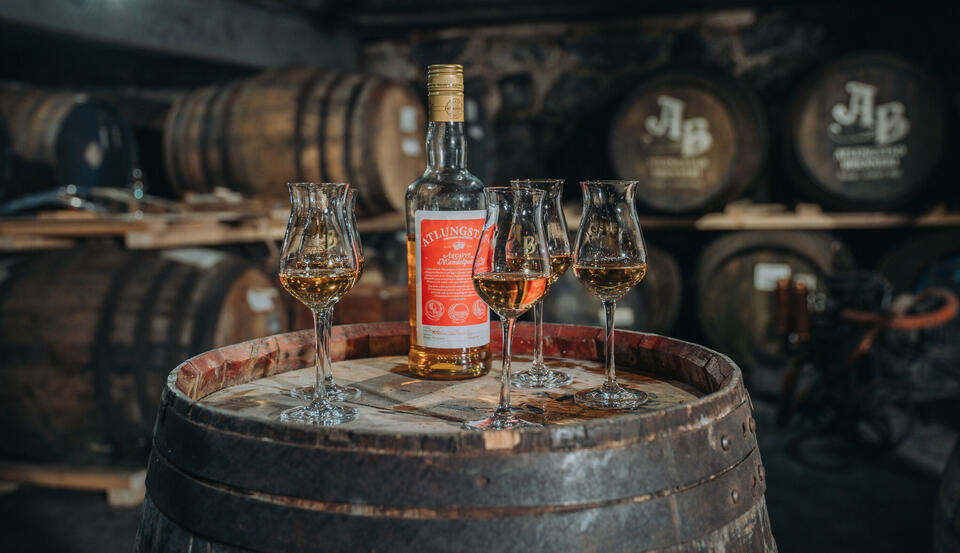 From the aquavit tasting at Atlungstad Distillery. Photo: Atlungstad Distillery
Hand-picked pearls of eastern Norway
 
We have carefully chosen places and sights that is worth a visit. Explore our chosen, recommended pearls of eastern Norway in the map below. 
Below you'll find our recommendations for this itinerary marked in red. White markers shows you other possibilities and their location.
Art, history and mountain scenery
Day by day
Duration
6 days / 5 nights
Destinations
Oslo / Hamar / Lillehammer / Valdres / Hallingdal / Hadeland / Oslo
Accomodation
Wood Hotel by Frich's
Gomobu Fjellstue
Sole Gjestegård
Klækken Hotel (2 nights)
Additional costs
Single room NOK 1250
Lunch on day 3 and 5
Flight or other transport to and from Norway
Included
Transportation in comfortable tour bus/coach
English speaking tour leader
5 nights in double room with WC/Shower
5 * breakfast
5 * dinner
3 * lunch
Entrance to the following attractions:
Eidsvoll 1814, Atlungstad Distillery, Domkirkeodden, Maihaugen, tasting at Noraker farm or Små Vesen, Blaafarveværket, Hagan, Kistefos museum and the Sisters Churches
Tour is guaranteed to go with minimum 12 participants.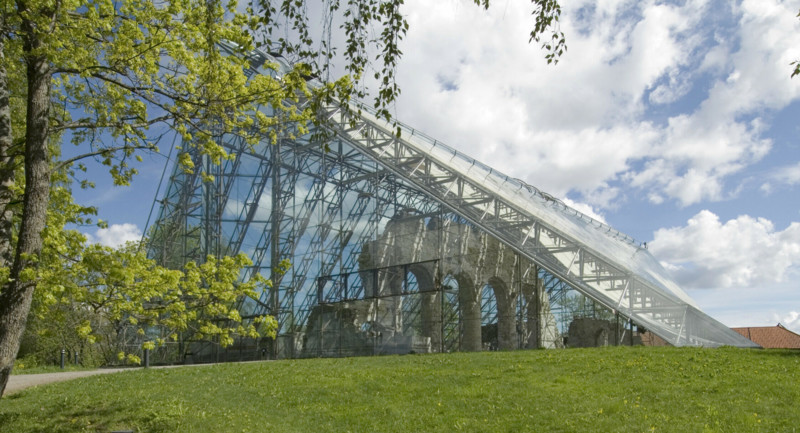 The medieval ruins at Domkirkeodden in Hamar. Photo: Domkirkeodden fotoarkiver
Day 1: Oslo - Brumunddal
Norwegian distillery traditions
Arrival at Oslo Airport Gardermoen, Norway. You will be met by a driver and your guide from Askeladden Reiser. We travel from Oslo northwards to the Hamar region. Our first stop is Eidsvoll 1814. As the place where the Norwegian Constitution was drawn up and signed in 1814, Eidsvoll Manor House is one of Norway's most important national symbols. The Constituent Assembly was made up of 112 delegates, who gathered here from 10 April to 20 May 1814. The Assembly declared Norway an independent nation, after more than 400 years of union with Denmark, gave the country a constitution and elected a king. The Constitution is dated 17 May 1814, which is celebrated as Norway's national day. Lunch here at Eidsvoll.
A beautiful drive from to Hamar along the lake Mjøsa to Atlungstad Distillery. This is a unique cultural site where you get to experience Norwegian industrial architecture, the distillery history and Norwegian aquavit production for the past 150 years. We follow the process from the potato enters the building until the precious drops are bottled.
We also visit the Domkirkeodden. On the headland of Domkirkeodden just north of modern town Hamar lie the ruins of the old Hamar Cathedral, erected in connection with the creation of the diocese in 1152/53. The location at the highest point of the headland made the cathedral a mighty landmark visible from long distances when sailing at the lake Mjøsa. Next to the cathedral ruins you find the remains of the medieval town, Hamarkaupangen, and the magnificent ruins of the cathedral inside a fabulous protective structure of glass and steel, "the glass cathedral", is the main attraction. The history of Domkirkeodden is unique in Norway, and the acoustics inside the glass cathedral is astonishing. The singing guides manage to combine these two matters in a way that will give the visitors a memory for life.
Check-in at Wood Hotel by Frich's, newly opened in 2019. The hotel is the world's tallest wooden building with its 18 floors. Dinner at the hotel in the evening.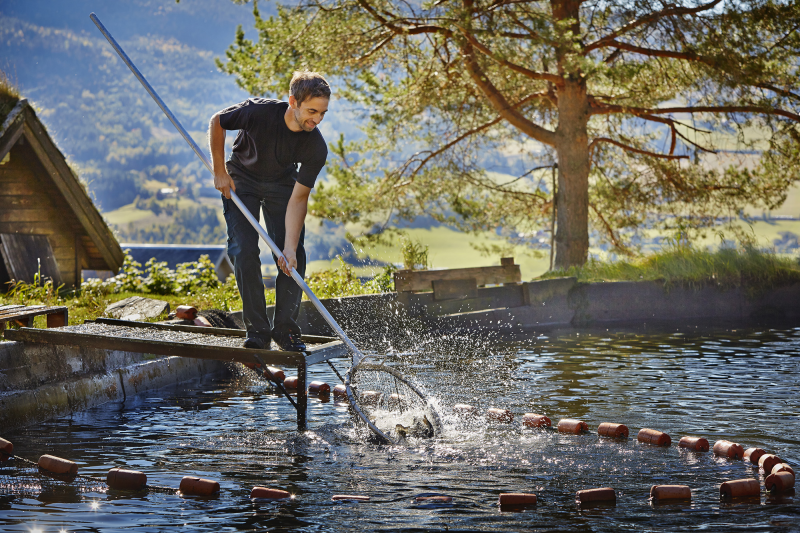 At the Noraker farm, fishpond. Photo: Noraker Rakfisk
Day 2: Brumunddal - Lillehammer - Valdres
Local produce and mountain pleasure
In beautiful surroundings by the shores of Lake Mjøsa, you wake up refreshed and ready for good experiences. A beautiful morning drive alongside Lake Mjøsa, to the city of Lillehammer. We visit Maihaugen, Norway's largest open-air museum outside of Oslo. Lunch on your own at Maihaugen.
Next, we travel to Valdres, that has become famous as the centre for Rakfisk production in Norway. Rakfisk is fermented fish. The history of the rakfisk dates to the Middle Ages. Rakfisk is protected by Geographical Designation and is part of the old, Norwegian food culture that made it possible to preserve fish for the winter. We also visit Små Vesen microbrewery.
We drive through Fagernes and check in at Gomobu Mountain lodge. At Gomobu we enjoy high mountain views and fresh mountain air before we go to the table for a tasty and delicious dinner. Gomobu's chef has a passion for traditional food. The menu varies according to the season and the chef combines traditional dishes with modern flavours.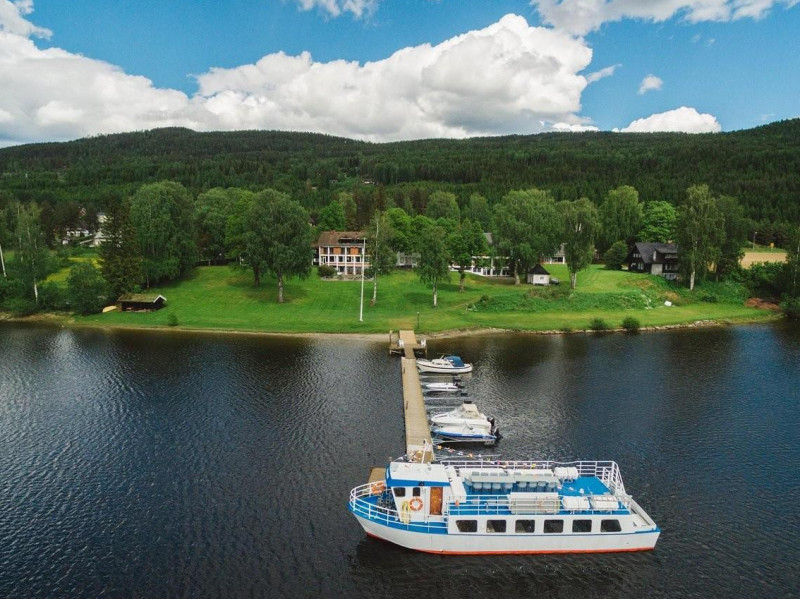 M/S Kryllingen at lake Krøderen foran Sole gjestegard - Photo: Sole Gjestegard
Day 3: Valdres - Hallingdal – Noresund
Mountains and animals
We drive through mountain landscape in Valdres and down the Hallingdal and further down the valley to Bjørneparken. In Bjørneparken you get to know the fantastic animals that are found in our Norwegian nature and some exotic species not found in the Norwegian fauna, e.g the amur leopard, one of the world's rarest felines. Lunch on your own in Bjørneparken. Then we drive down to the lake Krøderen to the boat M/S Kryllingen who will take us to our hotel Sole Gjestegård. Dinner in the hotel.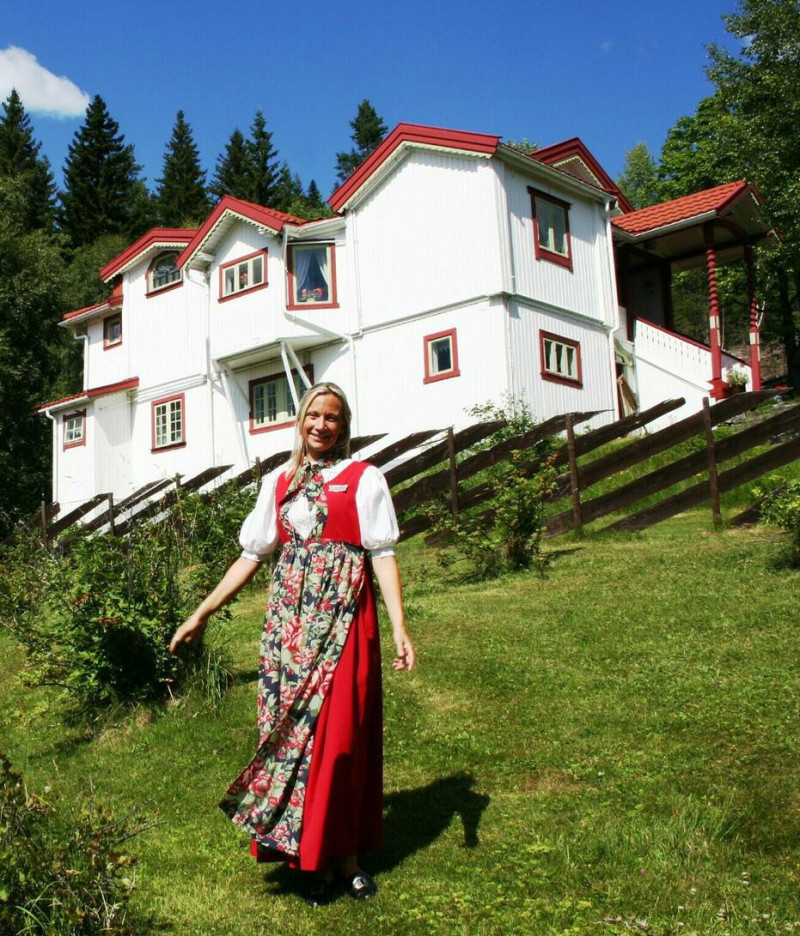 Hagan. Photo: Hagan
Day 4: Noresund - Eggedal - Modum - Ringerike
Art and galleries
Next morning we cross the mountain Norefjell to Eggedal. We visit "Hagan", one of the country's best-preserved artists' homes from the golden age of Norwegian painting. The painter Christian Skredsvig (1854–1924) lived here for 30 years. Skredsvig was a famous painter and perhaps the most famous of the Norwegian artists in Paris. He won the highest award, the gold medal, at the Salon in Paris in 1881 for his large painting of a French farmhouse, "Une ferme a Venoix" purchased by the French state. Skredsvig lived in Paris for six years before moving home to Norway. Our lunch stop is Eggedal Borgerstue.
After lunch we go to Blaafarveværket where they produced Cobalt. From 1773 to 1893, the Blaafarveværket and the Cobalt Mines were the workplace of thousands of people who had one task: to supply the world with the most beautiful blue colour. Today you can experience the history of the preserved Cobalt Mines and the built environments through guided tours, cultural trails, art exhibitions, exciting shops, and cosy eateries in green surroundings.
From Modum to Jevnaker we pass the Vikersundbakken, the world's largest ski jump. We pass the vibrant town Hønefoss before arriving at our destination and accommodation for the next two nights, Klækken hotel. Dinner in the hotel.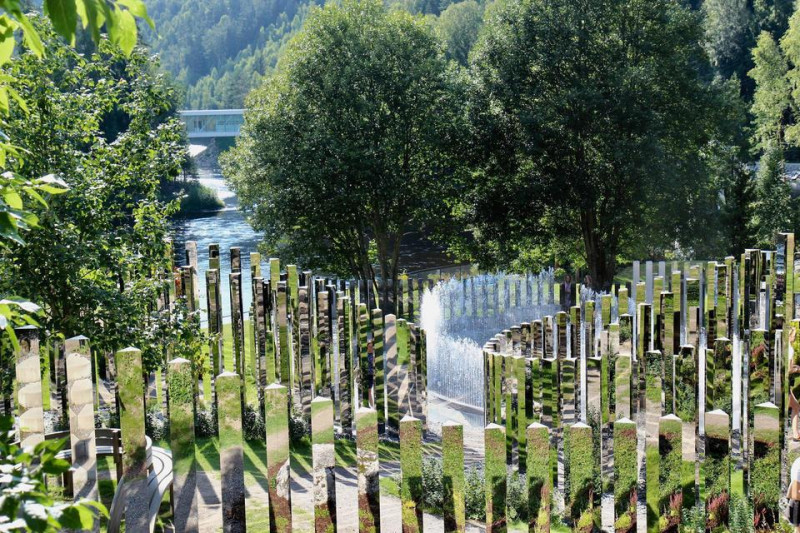 Kistefos Museum. Photo: Arvid Høidahl, Unsplash.
Day 5: Ringerike - Hadeland
Sculptures and glasswork
Two large tourist attractions in Norway; Hadeland Glassverk and the Kistefos Museum are today's next destinations, both being important cultural institutions housing various art exhibitions every year.
Kistefos is a unique cultural destination in beautiful surroundings in Jevnaker. Kistefos was built on the former factory area of Kistefos Træsliperi AS, a wood pulp mill, and today consists of an impressive sculpture park, two art galleries and an industrial museum. In 2019, the signature building The Twist opened, which has won several awards and nominations for its spectacular design.
Hadeland Glassverk has been producing glass since 1765 and is today a major attraction with many shops, exhibitions, activities, museum, and various art exhibitions. Hadeland Glassverk is beautifully situated just an hour north of Oslo, in idyllic surroundings on the south bank of Lake Randsfjord. The glasswork was founded in 1762 and is the oldest industrial company in Norway, still going strong. Watch the glassblowers practicing their traditional art. You can even try your hand at glassblowing or glass designing. Lunch on your own at Hadeland Glassverk.
Then we drive to Granavollen, beautifully situated in the middle of the historic environment and beautiful cultural landscape. The Sisters Churches on Granavollen are an impressive landmark and have a mysterious history. Two churches are placed next to each other. Their steeples have inspired the design of the Gran municipal coat-of-arms. Today, it is only on Granavollen that we find two medieval churches so close together on the same churchyard here in Norway. The larger one, Nikolaikirken was probably the county church while the smaller one, Mariakirken, was the parish church. They were likely built during the 12th century. We are still speculating why there are two churches on Granavollen. The popular explanation is that there were two sisters who disliked each other and built each her own church. But if we go back to the Middle Ages, the time at which the churches were built, it wasn't unusual that one built two or three churches in the same vicinity. They then had different functions, for example cathedral, monastery church, or parish church.
Dinner in the hotel in evening.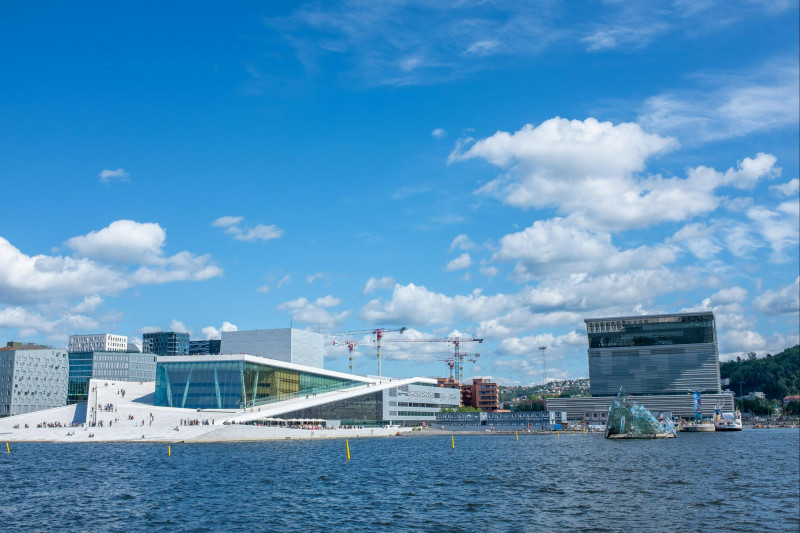 Opera house and Munch museum - Photo: Gunnar Ridderstrom - Unsplash
Day 6: Ringerike - Oslo Airport
Lasting memories
Check out from hotel. If you have a late flight we will also include Oslo city with a visit to Munch museum, National Museum, the Opera House etc. (not included).
From here we go to Oslo airport Gardermoen and leave our guests who will travel back home today.
Possible add-on:
For those of you who choose to stay one or two extra nights in Oslo city, we will bring you to your chosen hotel. You can order your hotel on your own, or we will be glad to help you with reservations.
Booking
Want to experience this journey? Book your next holiday in Norway below.